Don't Let Uncertain Times Put Your Career On Hold.
Join us at our upcoming open house where we will be providing on-the-spot contingent offers for qualified candidates!
Arcfield Hiring Event
Tuesday, Oct. 4, 3:30-6:30 p.m.
14295 Park Meadow Drive, Chantilly, VA 20151
*Must possess or be able to obtain and maintain a security clearance up to TS based on the position
Register today: TechExpoUSA.com/Arcfield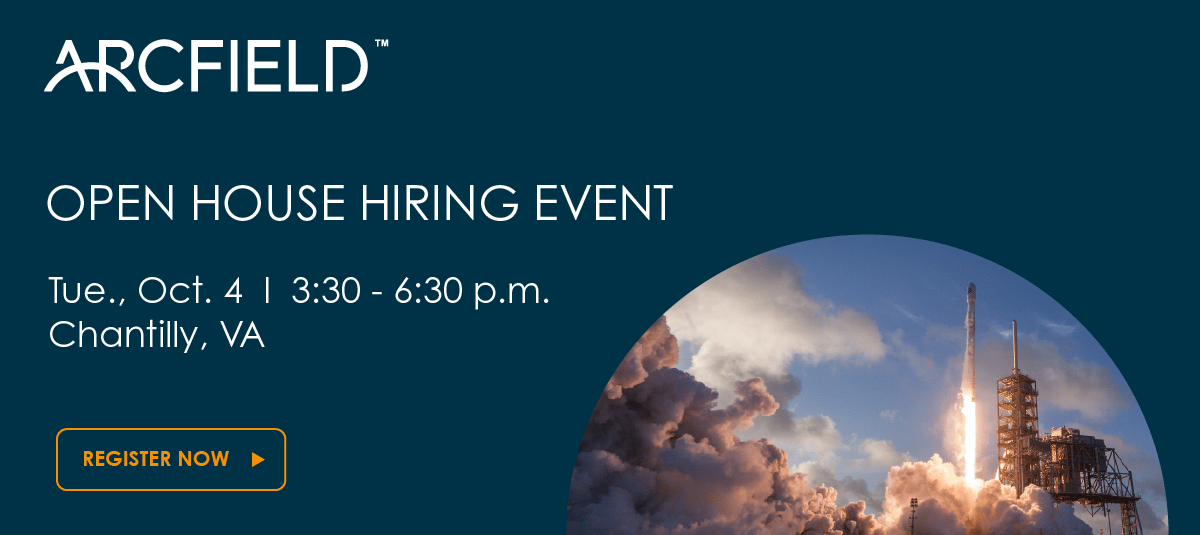 ---
Every day we play a critical role in securing the nation, and our government customers are counting on us now more than ever.
At Arcfield, our team of advanced engineers, analysts, and scientists provide unmatched expertise, technology, and commitment.
If you are a determined problem solver and are driven by mission success, join a culture that celebrates innovation and performs work that's always in demand.
Currently filling the following roles
Top Secret or Higher Clearance Required
• Agile Systems Engineer
• CI Systems Integrator Technical Specialist
• Cyber Systems Engineer I
• GEOINT Systems and Test Engineer
• Information System Security Engineer
• Network Engineer Senior Technical Specialist
• Space Systems Engineer I – MBSE
• Systems Engineer II
• Systems Engineer Senior Technical Specialist
• Systems Engineer Technical Specialist
• Systems Engineering Manager
• Systems Integration & Testing Engineer Technical Specialist
• Systems Integrator Technical Specialist
• Information Analyst – Due Diligence Expert
Secret Clearance Required:
• Applications Engineer II
• Project Engineer II
No Clearance Needed:
• Applications Service Manager
• Ethics Analyst
• HRIS Analyst II
• Senior Compliance Analyst
• Tax Director
• Timesheet Administrator
• Assistant General Counsel
• Financial Analyst IV
• Lead Graphic Designer and Multimedia Specialist
For details and registration visit TechExpoUSA.com/Arcfield
Samantha Hudson is a member of the leadership team at TechExpo Top Secret.
Top Secret is the Nation's premier producer of professional job fairs, primarily for those with an active Security Clearance and, or Cyber Security industry experience.
TechExpoUSA.com is one of country's leading online career centers where leading defense contractors, technology companies, consulting firms and numerous agencies of the US Government can recruit and hire these experienced professionals along with Transitioning Military and Veterans.
For over 20 years, our company has consistently produced the nation's most successful hiring events for a multitude of industries with a major focus on Technology, Engineering, Cyber Security, Aerospace, Telecommunications and Intelligence. With over 1,000 events hosted by our team, the nation's most prestigious companies have exhibited at TECHEXPO to recruit the best talent in the industry and have provided hundreds of thousands of professionals with new opportunities to advance their careers.
TECHEXPO has been featured on CNN, CNBC, AOL, WTOP, in The New York Times, Washington Post, Baltimore Sun, Wall Street Journal, Baltimore Business Journal and numerous other media outlets. Our active client list exceeds 500 corporations.
EDITORIAL DISCLOSURE
All content herein is owned by author exclusively.  Expressed opinions are NOT necessarily the views of VNR, authors, affiliates, advertisers, sponsors, partners, technicians, or VT Network.  Some content may be satirical in nature. 
All images within are full responsibility of the author and NOT VNR.
POLITICAL PARTY POLICY: We intentionally remove all references to political party affiliation when highlighting elected officials.  We believe in judging actions taken by politicians and NOT what party they belong to.  For the same reason, we are also advocates for removing references to political party affiliation on all ballots nationwide.
Read Full Policy Notice
-
Comment Policy