For decades, the National Guard has been mistreated by a federal government deploying them into endless, undeclared wars
(Boise, Idaho) – Yesterday National Public Radio (NPR) featured Sgt. Dan McKnight, the founder of Bring Our Troops Home, a veterans advocacy organization founded by veterans of the Global War on Terror and their civilian allies. Hosts Sally Herships and Darian Woods spoke with Sgt. McKnight is about preserving the integrity of the National Guard amidst numerous, long-term deployments in wars undeclared by Congress.
"There has been a lot going on that the National Guard has been brought in for—hurricanes, floods, protests, Iraq, Afghanistan. Last year, more than a third of the National Guard was on active duty. That's the highest utilization we've seen since World War II, and some service members are getting fed up," explained Darian Woods.
That includes Sgt. Dan McKnight, who has served thirteen years in the United States military, including time spent with the U.S. Marine Corps, U.S. Army, and Idaho National Guard. He was deployed to Afghanistan from 2005 to 2007. "It's our lives on the line. We're writing a check-up to and including the value of our own life," McKnight told NPR about his fellow veterans.
"According to the U.S. Constitution, National Guard troops are not supposed to be deployed overseas unless Congress declares war. But for decades now, that has not been what's happening, and these guard members are being deployed for long stretches—months over a year, again and again," Herships reports.
Woods explained the origins of our organization: "A couple of years ago, after watching a friend of his struggle with substance abuse and then lose his wife after his fifth deployment, Dan got so fed up that he founded a nonprofit, Bring Our Troops Home. It's an advocacy group which is trying to pass legislation which would require Congress to issue a formal declaration of war before National Guard members are sent into active combat."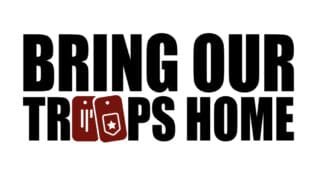 This legislation, called "Defend the Guard," is set to be introduced in over 40 states in 2022.
"And if you want us to go fight in a war, we're going to go. If it's worth fighting for, it's worth dying for," McKnight continued. "And we truly believe that if you want us to fight for this country, then do it the right way. Give us a proper declaration, and then get out of the way. Let us go complete the mission and defend America. And then let us come home."
You can listen to the whole NPR segment here.
EDITORIAL DISCLOSURE
All content herein is owned by author exclusively.  Expressed opinions are NOT necessarily the views of VNR, authors, affiliates, advertisers, sponsors, partners, technicians, or VT Network.  Some content may be satirical in nature. 
All images within are full responsibility of the author and NOT VNR.
Read Full Policy Notice
-
Comment Policy