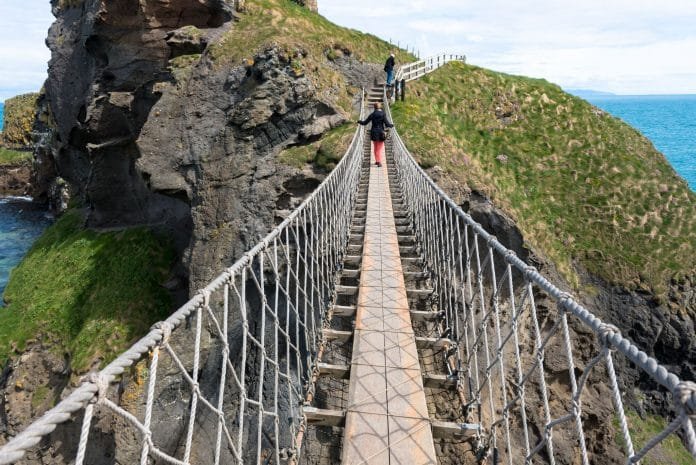 May is a month full of celebration for those who positively impact the world around them. CIE Tours International (https://www.cietours.com/) , Ireland's premier tour operator since 1932, recognizes the deep connection between Ireland and the American service community and wants to say thank you for the work they do.
The tour operator is offering $200 air credit per couple as well as up to 15% off select tours in Ireland, Scotland and Italy to all the firefighters, first responders, military members, nurses, police officers, and teachers of all heritages who make our world a better and safer place to live and travel.
This deal is immediately bookable and will remain available through Friday, May 17, 2019. The air and land promotions can be booked separately or together. The land offer is valid on selected tours and dates throughout May, June, July and August and available to book by phone only: call 1-800-243-8687. Full offer details and restrictions are online at www.cietours.com/those-who-serve/.*
Those who serve – and the people that appreciate them – can select from fourteen of CIE Tours' popular vacations with over 40 departure dates including:
* Scottish Dream: (https://www.cietours.com/scotland/tours/scottish-dream/) 8 days, from $2114 per person (based on July 24 discounted departure). Travelers will immerse themselves in the beauty of Scotland with castle tours, a trip to picturesque Isle of Skye and the bustling cities of Edinburgh and Glasgow.
* Taste of Italy (https://www.cietours.com/italy/tours/taste-of-italy/) : 7 days from $2339 per person (based on July 14 discounted departure). The wonders of Venice, Florence and Rome come to life as guests explore Italy's top sights, culinary highlights and hidden gems.
* Irish & Scottish Sampler (https://www.cietours.com/ireland-scotland/tours/irish-scottish-sampler/) : 8 days, from $2474 per person (based on August 5 departure). Travelers will begin their tour in Ireland, where they will take in the highlights of Dublin city and the spectacular sights at Brú na Bóinne. Guests will visit Belfast and the Giant's Causeway before making their way to Scotland where they will experience the magnificent scenery of Scotland's Highlands and a trip to Edinburgh.
* Ireland's Wild Atlantic Way (https://www.cietours.com/us/escorted_tour/2018/wild_atlantic_way_9d/) : 13 days from $3,059 per person (based on August 19 departure). Beginning in Shannon and concluding in Dublin, this Irish tour is rich with scenery and sea views. Trip highlights include the Cliffs of Moher, Achill Island, and Giant's Causeway.
* Irish Pub Tour: 8 or 9 days from $1899 per person (based on June 26 discounted departure). Learn about Ireland's folk traditions and tales as you explore cozy pubs around the country, including story-telling at Dublin's Oldest Pub, the Brazen Head, and dinner and music at Kate Kearney's Cottage. Visit Teeling Whiskey Distillery and Guinness Storehouse. Stay in Kilkenny, Killarney and Westport, towns renowned for lots of lively pubs.
*Terms and conditions: Terms & Conditions: $100 per person air credit on Premium Economy for US/Canada travelers on any CIE guided tour with code TWSAC19. Must call in to apply and be able to provide proof of qualification. 15% off new bookings on select guided tour departures between May 17-July 27, 2019. Use code: TWS1519. 10% off new bookings on select guided tour departures between June 9-July 29, 2019 with code TWS1019. Book between April 22-May 17, 2019. Does not apply to groups, Private Driver or self-drive vacations. $500 per person non-refundable deposit required. Subject to availability, not combinable with any other CIE Tours offers/discounts and may be withdrawn at any time. Advertised price is per person, land only based on double occupancy and reflects the discount. Other conditions may apply.
Author Details
Since 2011, VNR, formerly known as VNN, has operated in alternative media and information space for U.S. Military Veterans.
EDITORIAL DISCLOSURE
All content herein is owned by author exclusively.  Expressed opinions are NOT necessarily the views of VNR, authors, affiliates, advertisers, sponsors, partners, technicians or Veterans Today Network.  Some content may be satirical in nature. 
All images within are full responsibility of author and NOT VNR.
POLITICAL PARTY POLICY: We intentionally remove all references to political party affiliation when highlighting elected officials.  We believe in judging actions taken by politicians and NOT what party they belong to.  For the same reason, we are also advocates for removing reference to political party affiliation on all ballots nationwide.
Read Full Policy Notice
-
Comment Policy